Volcanoes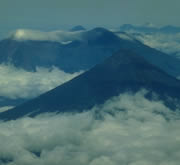 With 33 volcanoes spread throughout its highlands, Guatemala is one of those rear destinations that rewards even the most jaded world traveler with revelatory experiences. Stark silhouettes rise above Guatemala's mountainous landscape and only few visitors will return home without pictures of these giants in their collection of snapshots. Let's explore a few of them:
Agua, Fuego & Acatenango: Perhaps the most frequently photographed volcanoes in Guatemala, these three peaks watch over the sleepy, colonial town of Antigua Guatemala. The forested cones of Agua and Acatenango attest to their slumbering old age, while the bare peak of Fuego and the small ash clouds rising from its summit are evidence of continuing activity. Birdwatching, hikes and mountain-bike tours are by our Tour Operators.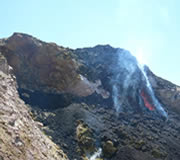 Pacaya: An active, unpredictable volcano, Pacaya recently dumped tons of volcanic sand on
Guatemala City
, 18 miles away! This volcano proveds a constant show of ash clouds and lawa flow.
Toliman, Atitlan & San Pedro: These three majestic volcanoes towering above Lake Atitlan form the natural dam that contains the lake. At night, spectacular displays of lightning can be seen beyond their peaks from Panajachel. A smaller volcano called Cerro de Oro, on the south side of the lake once contained a Maya fortress in its crater.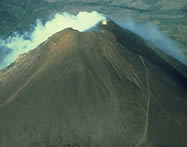 Santa Maria & Santiaguito: Santa Maria is perhaps the most beautiful volcano, whose stately presence forms the lovely backdrop of the city Quetzaltenango. Santiaguito, Guatemala's youngest and most dangerous volcano, emerged on Santa Maria southern flank with a fierce eruption in 1902.
Click here
for a list of the highest and most visited volcanoes and mountain peaks of Guatemala.
Moutains and Volcanoes in Guatemala
Volcano/Mountain
Height
State
Volcano Pacaya
Volcano Quetzaltepeque
Mountain La Soledad
Volcano Jumay
Volcano Culma
Volcano Viboras
Volcano Chingo
Volcano Ixtepeque
Volcano Moyuta
Volcano Tecuamburro
Volcano Jumaytepeque
Volcano Acatenango
Volcano Fuego
Volcano Agua
Volcano Acatenango
Volcano Santa Maria
Volcano Zunil
Volcano Tajumulco
Volcano Tacana
Volcano Toliman
Volcano Atitlan
Volcano San Pedro
Mountain Juan Dieguez
2,550m
1,903m
2,300m
2,176m
1,027m
1,070m
1,775m
1,291m
1,680m
1,945m
1,815m
3,975m
3,763m
3,765m
3,975m
3,777m
3,542m
4,220m
4,092m
3,158m
3,557m
3,020m
3,300m
Guatemala y Escuintla
Chiquimula
Jalapa
Jalapa
Jutiapa
Jutiapa
Jutiapa
Jutiapa
Jutiapa
Santa Rosa
Santa Rosa
Chimaltenango
Sacatepequez
Sacatepequez
Sacatepequez
Quetzaltenango
Quetzaltenango
San Marcos
San Marcos
Solola
Solola
Solola
Huehuetenango
Volcan Tajumulco
Volcán Tajumulco is a large stratovolcano in the department of San Marcos in western Guatemala. It is the highest mountain in Guatemala and Central America at 4,220 metres (13,845 ft). Tajumulco has had several historical reports of volcanic eruptions, but none have been confirmed to be true eruptions.
The Volcán Tajumulco was declared a protected area in 1956 and covers an area of 4,472 Ha.[1]
On December 20, 2009 the temperatures dropped below zero and for the first time ever, a snowfall has been recorded at the top of the volcanoe, also affecting the highest town in Central America, Ixchiguán in the San Marcos department.